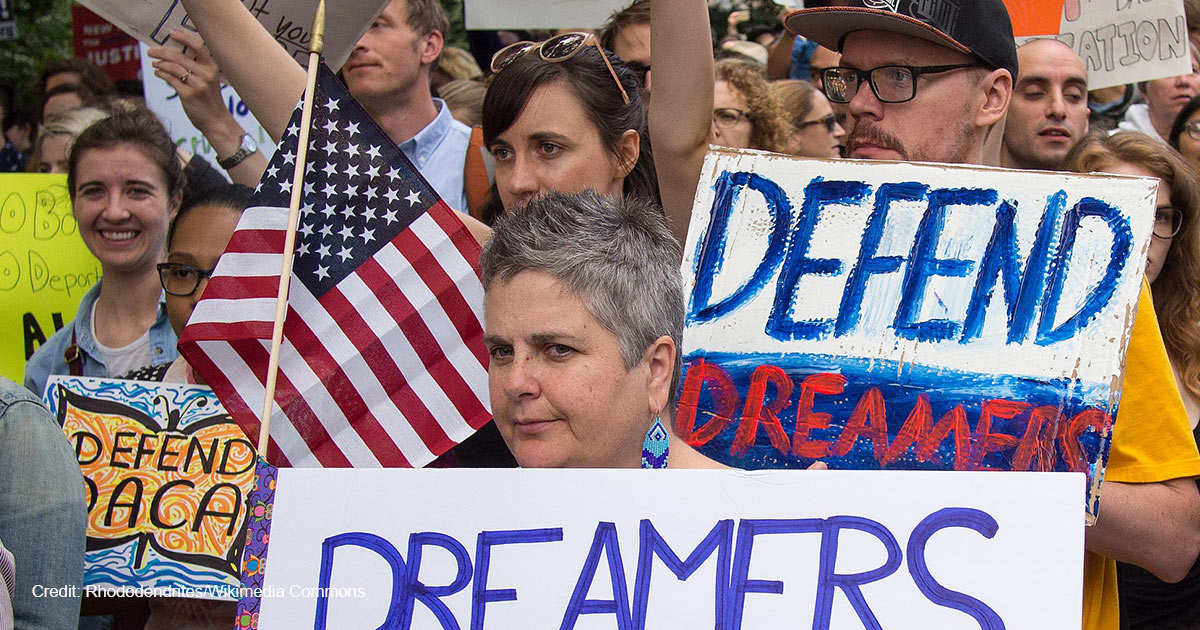 News
Chuck Schumer Bets on Migrants for U.S. Growth: 'We're Short of Workers'
Addressing the declining U.S. birthrate and its economic consequences on the nation, Senate Majority Leader Chuck Schumer (D-N.Y.) is betting on 11 million illegal immigrants and "Dreamers" from the Deferred Action for Childhood Arrivals (DACA) program to do the heavy lifting.
"Now more than ever, we're short of workers. We have a population that is not reproducing on its own with the same level that it used to. The only way we're going to have a good future in America is if we welcome and embrace immigrants the Dreamers — and all of them — [because] our ultimate goal is to help the Dreamers get a path to citizenship for all 11 million, or however many undocumented that are here. And we will be pursuing that in the next Senate … the comprehensive immigration reform," he said.
Following his speech, some conservatives highlighted the irony of the Democrats' social agenda. "They say that it's empowering to stay single forever and never start a family, claim having kids destroys the environment, promote abortion as a moral good — and their solution when they realize people aren't having enough kids is to import the third world to replace them," Greg Price, conservative political strategist wrote on Twitter.
He then openly criticized Schumer's leadership. "Chuck Schumer has also been in government since the 1980s and helped create the economy of today that makes it virtually impossible for people my age to build wealth and start a family. The man has literally done nothing but preside over America's decline."
From 2020-2021, the U.S. population only grew by 392,665 (0.1%), the lowest annual growth rate since the nation's founding, according to USA Facts, a nonpartisan database. Immigration made up 62.3% of the yearly growth.
While liberals look outside to fix America's economic problems, conservatives look inward. In a 2016 FRC policy analysis, former senior vice president Rob Schwarzwalder said, "The family is at the heart of our economy. The family is the great generator, and the intact family the greatest generator, of human capital (knowledge, attitudes, skills and habits of the individual), and of much financial savings and capital as well. The vast majority of small businesses (out of which eventually grow the large businesses of the nation) begin as family businesses, started on the savings of family and relatives, and on the human capital formed by parental investment in the education of children." Family Research Council has proposed five family-friendly tax benefit initiatives to help American families, and in turn, help the economy.
Responding to Schumer's opinion, Joy Stockbauer, FRC's policy analyst for the Center for Human Dignity, told TWS, "It is impossible to authentically address our nation's declining birthrate without acknowledging the millions of American children whose lives have been legally ended by the abortion industry. The Roe v. Wade decision in 1973 opened the floodgates for creating a culture of death in the United States where unborn children are treated as an expendable burden rather than a precious gift."
"In order to reverse the impending population crisis," Stockbauer went on, "the United States ought to begin by acknowledging the inherent value of unborn children in the womb and providing them legal protection in all 50 states. The matter of showing compassionate care for immigrants in need is an important one — but one that is entirely separate from the question of addressing our nation's declining birthrate."