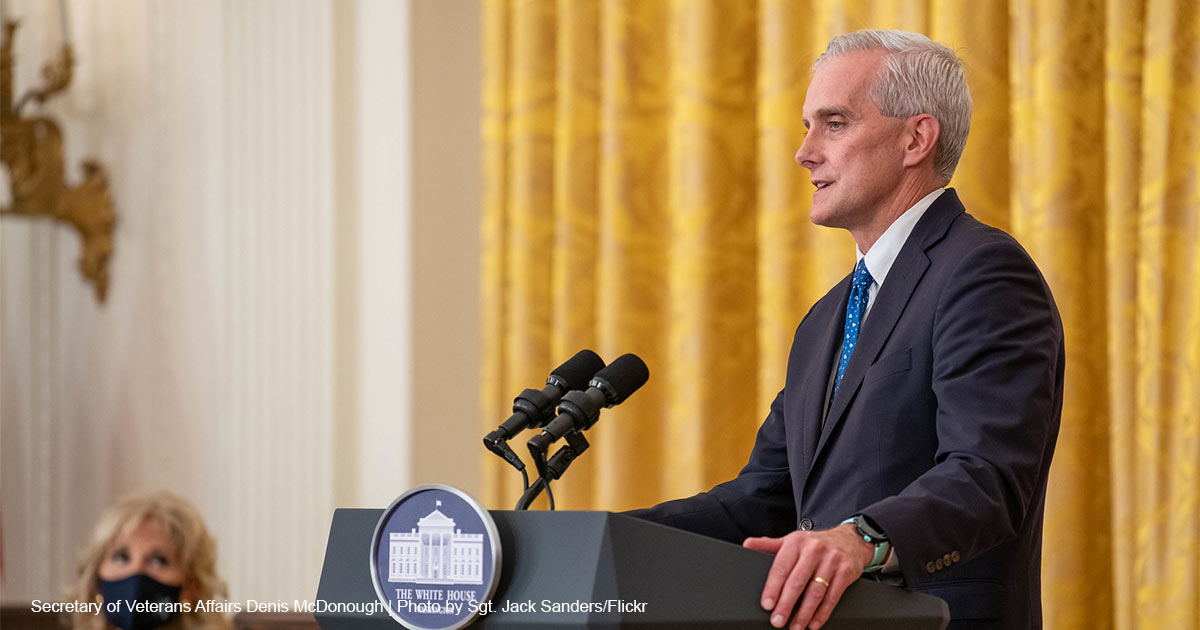 News
VA Secretary: We're 'Going to Make Sure' Women Veterans and Dependents Can Get Abortions
The head of the U.S. Department of Veteran Affairs (VA) said Sunday that he and his staff are looking into ways to "make sure" that women veterans and their dependents are able to get abortions if their state has laws that prevent them from doing so.
U.S. Secretary of Veterans Affairs Denis McDonough, appearing on CNN's "State of the Union," avoided providing more details to CNN Host Jake Tapper, but said that his department is "going to make sure that they have access to the full slate of that care," including abortion.
"My preference is that they not face risks to their lives as a result of this decision from the court," he said, referring to the U.S. Supreme Court's decision late June on the case of Dobbs v. Jackson Women's Health Organization that overturned the 1973 Roe v. Wade decision.
"We're going to make sure that we're in a position to take care of that," he said.
On Thursday, 24 Senate Democrats sent a letter to McDonough urging the VA to "urgently begin" rulemaking to allow veterans and eligible dependents to get abortions. The Democrats, led by Senators Mazie Hirono of Hawaii and Elizabeth Warren of Massachusetts, recognized that current VA regulations prohibit the Veterans Health Administration from providing abortions as part of the medical benefits package. But they contend that the Veterans Health Care Eligibility Reform Act of 1996 provides that the VA Secretary "shall furnish hospital care and medical services which the Secretary determines to be needed" to certain veterans.
"The VA must do everything in its power to provide critical reproductive care to veterans and their dependents across the country," they stated.
When asked Sunday if the VA will allow abortion services at VA hospitals, McDonough sidestepped the question, telling Tapper that his department is "looking expressly at these questions about how we guarantee the life and the health of … our women veterans."
"I don't have any announcements to make on that this morning, Jake. But we're looking very closely at that to ensure that there's no diminution and no reduction of services to them and no risk to their — to their lives as a result of these decisions," McDonough said.
On Friday, Gil Cisneros, under secretary of Defense for Personnel and Readiness at the Department of Defense, made similar comments, telling a U.S. House Armed Services subcommittee that service members "can receive the same reproductive health care after Dobbs as they did before the ruling."
"There is no interruption to this care," he said during the hearing on "Service Members' Reproductive Health and Readiness."
He added that the Defense Department is "being very deliberate in analyzing Dobbs with both focus and compassion." "We want to make sure we get this right because it impacts access to essential women's health care and reproductive care," he testified.
"One thing noticeably absent from such public comments is any discussion of how these policies affect those in the womb," Family Research Council Vice President Travis Weber insisted. "Yet the results are just tragic. With the many challenges our VA and DOD could be focused on, it's also nonsensical that they are devoting such laser-like focus to the topic of abortion."
Kenneth Chan is Director of Communications at Family Research Council and serves as an editor at The Washington Stand.