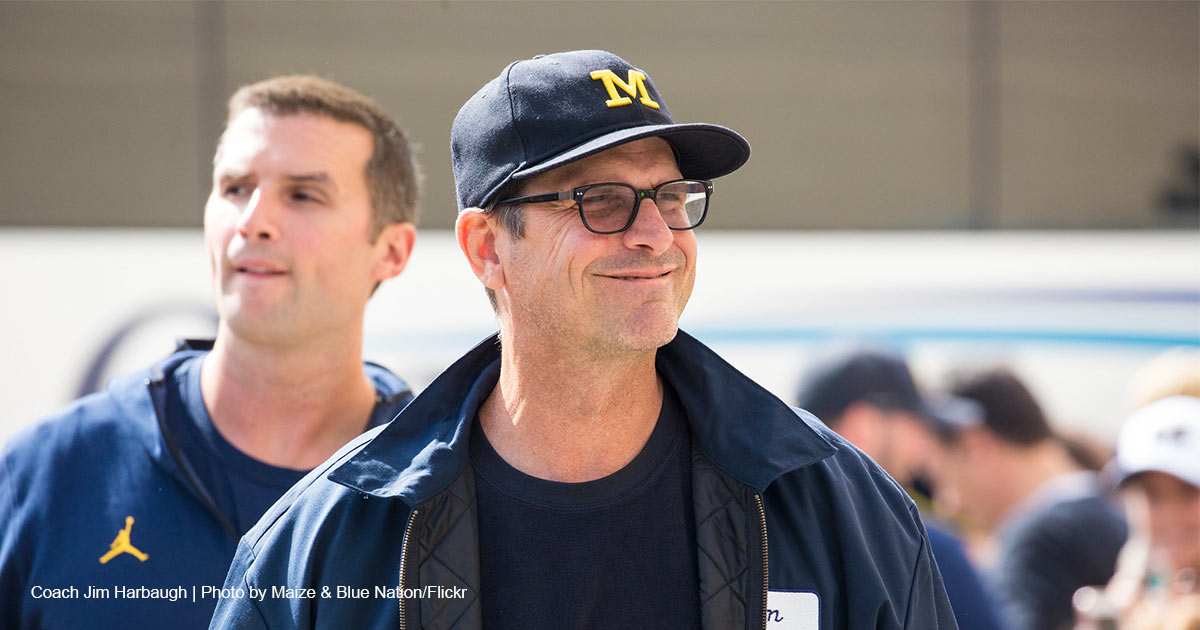 News
'We'll Raise That Baby': Pro-Life Courage from NCAA Coach
"The right choice is to have the courage to let the unborn be born."
A devout Catholic college football coach made headlines last week for publicly taking a firm pro-life stance. Coach Jim Harbaugh of the University of Michigan Wolverines spoke at a pro-life fundraiser, along with his wife, Sarah. The Detroit Catholic covered the couple's individual testimonies of faith and commitment to their pro-life values.
"I love life," Coach Harbaugh shared with the audience at the Plymouth Right to Life event. "I believe in having a loving care and respect for life and death. My faith and my science are what drive these beliefs in me." He quoted Jeremiah 1:5, which reads, "Before I formed you in the womb I knew you, and before you were born I consecrated you; I appointed you a prophet to the nations."
The NCAA Big Ten coach continued, "During halftime of a game, talking with the players, I say they are here because they have chosen to be here. If someone believes in what they stand for, they are choosing to stand for that position, and what kind of person are you if you don't fight tooth and nail for what you stand for? You get to change hearts by fighting for what you stand for." Harbaugh affirmed that being pro-life also encompassed meeting the needs of the living mothers and babies (born and unborn) involved.
Both the Michigan football program and the University of Michigan have made clear that Harbaugh's comments and views are his own, not reflecting the institutions. Following the Dobbs decision, the university released a statement reaffirming their commitment to making abortions accessible.
"Courage? So, women who have abortions are cowards?" one blue checkmarked radio personality tweeted in response to Harbaugh's pro-life remarks. Despite facing media pushback, Harbaugh stood by his beliefs, refusing to back down. In fact, according to ESPN, he's willing to put his money where his mouth is by welcoming children into his family.
"Any player on our team, any female staff member, or any staff member, or anybody in our family or our extended family ... that doesn't feel like after they have a baby they can take care of it, we['ve] got a big house. We'll raise that baby," Harbaugh said. While he acknowledged that both sides of the abortion issue were charged with emotion and passion, he doubled down on his commitment to the unborn, stating, "It's a life-or-death type of issue."
Responding to his fundraiser remarks, he explained to ESPN, "I've told [them] the same thing I tell my kids, boys, the girls, same thing I tell our players, our staff members. I encourage them if they have a pregnancy that wasn't planned, to go through with it. Let that unborn child be born. And if at that time, you don't feel like you can care for it, you don't have the means or the wherewithal, then Sarah and I will take that baby."
"Faith, family, football ... those are my priorities. I just think that ... the abortion issue is one that's so big that it needs to be talked about. It needs serious conversation," he explained.
This isn't the first time Harbaugh has publicly advocated for a social cause. In 2017, he was supportive during Colin Kaepernick's activism, calling the football player a "hero," and spoke out against officer Derek Chauvin's actions after the death of George Floyd in May 2020. At the start of the pandemic, Harbaugh went on a National Review podcast and discussed the increase in regard for human life among the populus as COVID-19 spread, drawing from his faith and pro-life perspective.
The pro-life movement still has work to do in Michigan. The state's Governor Gretchen Whitmer (D), a staunch pro-abortion supporter, is working to protect abortion in her state through legal means. An official press release quotes the governor as saying, "Right now, abortion remains safe and legal in Michigan because of a court order temporarily blocking enforcement of the state's 1931 abortion ban. But in the wake of the decision in Dobbs overturning Roe, certain county prosecutors and health providers have expressed confusion about the current legal status of abortion in Michigan. This only underscores the need for the Michigan Supreme Court to act now, which is why I sent a notice to the court urging them to immediately take up my lawsuit and decide if access to abortion is protected under the Michigan constitution. Getting this done will put an end to any confusion and ensure that Michiganders, health providers, and prosecutors understand the law."
At present, 18 states have taken measures to protect life from conception, according to Family Research Council's pro-life maps resource.
"It's encouraging and refreshing to hear Coach Harbaugh's commitment to the truth that every unborn child is a beautiful gift from God made in His image and likeness," Mary Szoch, FRC's director of the Center for Human Dignity, told The Washington Stand. "I am certain that he is sincere in his offer to raise any child that one of his players or staff members is unable to parent. Coach Harbaugh's example of publicly standing up for the weakest among us — regardless of the cancel culture that surrounds him — is one we should all strive to follow."
"As a Notre Dame grad, I can't believe I'm saying this," Szoch added, "but this football season, I'll be cheering for Michigan."
Marjorie Jackson is a reporter for The Washington Stand.