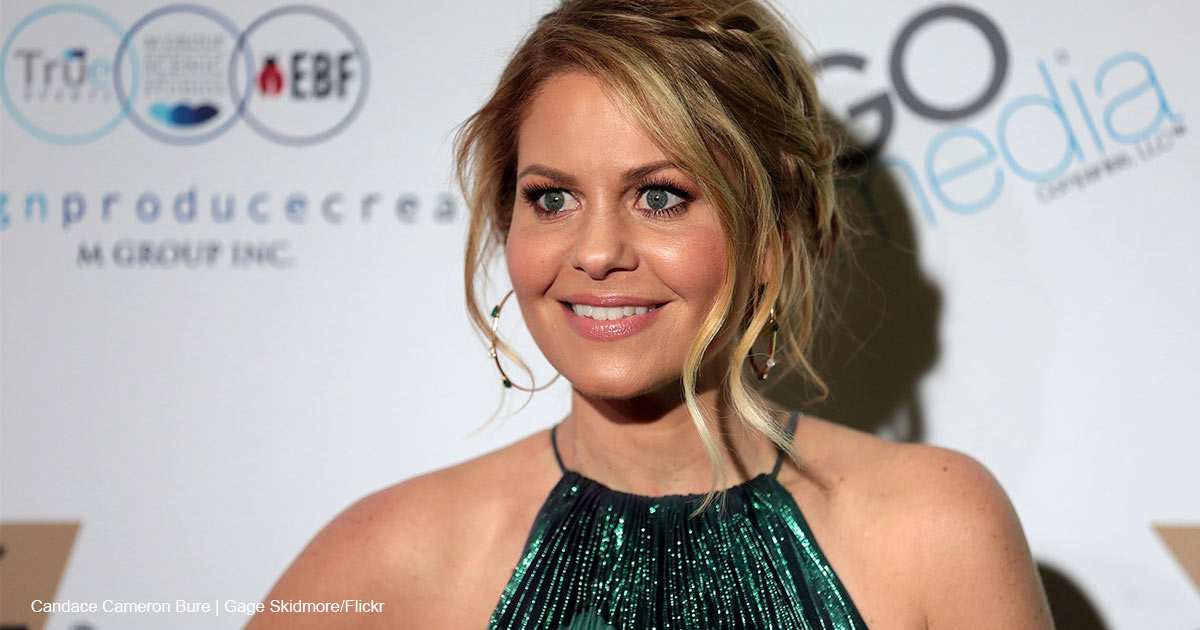 News
A Full House Divided: Hollywood Harasses Candace Cameron Bure for Marriage Views
Former "Full House" star Candace Cameron Bure is taking the heat for telling The Wall Street Journal that her new television channel will keep Christianity, including "traditional marriage," central in their family-oriented films.
Known best for her child actress debut as "DJ Tanner" in "Full House," Bure has starred in several Hallmark Channel movies in the past few years, earning herself the title of "Queen of Christmas." After leadership changes at the parent company, Bure recently jumped over to a new network, Great American Family Channel, to turn over a new leaf and be a part of films with a more faith-centric focus.
"It basically is a completely different network than when I started because of the change of leadership," she told WSJ, referring to former Hallmark executive Bill Abbott's quick departure from the company following controversy surrounding his refusal to air Zola commercials featuring same-sex couples.
In contrast with Great American Family, Hallmark is slated to release a Christmas movie featuring a lesbian romance in one of the subplots. As far as the new network is concerned, Bure told WSJ, "I think that Great American Family will keep traditional marriage at the core."
Abbott, who now heads up Bure's new media network, responded, "It's certainly the year 2022, so we're aware of the trends. There's no whiteboard that says, 'Yes, this' or 'No, we'll never go here.'"
Bure's remark sparked rage among her Hollywood contemporaries, who have been quick to come at Bure, pitchforks and torches in arms. "One Tree Hill" actress Hilarie Burton took to Twitter to fume at the Christian actress. "Now they're [Great American Family] just openly admitting their bigotry," she raved. "I called this s*** out years ago when Abbott was at Hallmark. Glad they dumped him. Being LGBTQ isn't a 'trend.' That guy and his network are disgusting. You too Candy. There is nothing untraditional about same-sex couples."
"Bigot," she continued in another tweet. "I don't remember Jesus liking hypocrites like Candy. But sure. Make your money, honey. You ride that prejudice wave all the way to the bank."
"Dance Moms" star JoJo Siwa, a self-identified LGBTQ individual, called Bure's comments "embarrassing" in a series of Instagram stories laughing at the actress, with whom she has had public spats with in the past. "Honestly, I can't believe after everything that went down just a few months ago, that she would not only create a movie with intention of excluding LGBTQIA+, but then also talk about it in the press," she fumed in a caption. "This is rude and hurtful to a whole community of people."
Bure attempted to diffuse the angry mob with a lengthy statement, calling out the media for generating outrage and attempting to "assassinate [her] character." She reiterated, "I am a devoted Christian. Which means that I believe that every human being bears the image of God. Because of that, I am called to love all people, and I do. If you know me, you know that I am a person who loves fiercely and indiscriminately. My heart yearns to build bridges and bring people one step closer to God, to love others well, and to simply be a reflection of God's huge love for all of us."
Despite the olive branch extended to her celebrity peers, country artist Maren Morris piled on the heap of backlash, commenting, "Make DJ Gay Again," on an infographic post blasting the actress and her beliefs on marriage, which alluded to a "Full House" fan theory questioning Bure's character's sexuality. Morris has recently made headlines for bashing another conservative celebrity, country singer Jason Aldean's wife, Brittany, for her remarks against children making gender transitions. In that feud, Morris quipped back to Aldean via Twitter, "It's so easy to, like, not be a scumbag human? Sell your clip-ins and zip it, Insurrection Barbie," which launched a back and forth media battle between the two country symbols.
Luckily for the actress, Bure isn't without her cheering supporters. Despite the angry mob, conservatives, Christians, and fans have flooded her comments sections with support. Prominent commentators such as Allie Beth Stuckey and Lila Rose have acknowledged her boldness and called out intolerance from her attackers. Bure's eldest daughter, Natasha, supported her mom with a statement of her own via Instagram.
"The media is an absolutely vile space for negativity, and I applaud you every time for how you handle yourself with the utmost grace," she praised. "As they continuously twist the narrative to beat down on the Kingdom, you stand firm in faith and never let others dim your light for Him. No matter how out of context or warped the words may get, the enemy will not prevail. Society has gotten completely out of hand with believing every strategically worded headline broadcasted by the media … followed by cancel culture which is nothing but ugly. It is so incredibly sad to watch. I am lucky to get to view you from a lens closer than most, and see how you are truly the real deal. The Lord shines through you time and time again. The battle is His."
Marjorie Jackson formerly served as a reporter for The Washington Stand.